About CiviCRM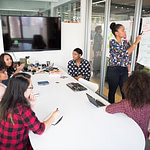 CiviCRM is powerful, web-based open source Contact Relationship Management software. It assists in meeting the needs of non-profit organisations to manage their contacts, activities, events, reports, membership directories, donations, campaigns, case management, workshops, conferences, volunteers, recording interactions with their contacts.
Inasmuch as CiviCRM is aimed at NPOs, it can be utilised by anyone including companies and the public sector.
CiviCRM consists of the following components:
CiviCampaign
CiviCampaign enables you to link together activities, events, mailings, and contributions under one "umbrella" so that you can track the progress of all your efforts towards one programmatic goal of campaign.
CiviCase
CiviCase is similar to a case management system which provides your organisations with tools for structuring, scheduling and recording case activities.
CiviContribute **

CiviContribute will enable you to record and report on financial and in-kind contributions to your organisation.
CiviEvent **

CiviEvent provides integrated online event registration and management for paid and free events.
CiviGrant
CiviGrant is used by organisations that distribute funds to others.
CiviMail **

CiviMail is a mass-mailing component which allows you to engage constituents with personalised email blasts and newsletters. You can also send SMSs using Clickatell.
CiviMember **

CiviMember provides the functionality to support and automate the management of memberships.
CiviPetition
CiviPetition includes a function that lets you create a petition to publicly gather responses and information online.
CiviPledge
CiviPledge allows for the flexibility to create various types of fundraisers. Allows to individuals to donate daily, weekly, monthly or yearly.
CiviReport **

CiviReport allows you to create, run and schedule reports based on the data CiviCRM has about your contacts and their interactions with your organisation.
CiviSurvey
CiviSurvey enables off-line surveys by providing a standardised way to record survey responses and then generate reports from the survey data.
CiviVolunteer
The CiviVolunteer extension provides tools for signing up, managing and tracking volunteers. This extension has to be installed separately.
** Indicates the components which will be covered on the course.
CiviCRM Requirements
CiviCRM can be installed as a plugin for a WordPress website or as an extension for a Joomla website or as a module for a Drupal website.
If you have an existing website which is or is not not based on WordPress, Joomla or Drupal and you want to keep your website, then CiviCRM can be installed in a subdirectory.
CiviCRM Training Course Prerequisites
The CiviCRM course will be based on WordPress.
Thus, knowledge of WordPress will be advantageous, but not compulsory if you catch on quickly.
You must bring a laptop/Mac to the course.
CiviCRM Training Course Content
The following modules will be covered:
Module 1:

About CiviCRM

Module 2:

Setting Up a Local Webserver

Module 3:

Creating a WordPress Website

Module 4:

Installing CiviCRM

Module 5:

Configuring CiviCRM

Module 6:

CiviCRM Menu Options

Module 7:

Contact Types & Subtypes

Module 8:

Custom Data Fields

Module 9:

Groups and Tags

Module 10:

Adding Contact Records

Module 11:

Recording Activities

Module 12:

Setting Up Membership

Module 13:

Creating and Managing Events

Module 14:

Using CiviContribute

Module 15:

Sending E-mails

Module 16:

Sending Text Messages (SMS)

Module 17: 

Generating Reports

Module 18:

Backing Up Your Website
Complete the enquiry form on this page in order to receive a detailed course outline and more information regarding CiviCRM.
Course Venues and Dates
Alberton
Cape Town
Centurion
| | |
| --- | --- |
| Course Dates | 25% OFF if you register & pay before or on this date |
| TBA | |
| TBA | |
| TBA | |
Click here for additional discounts.
| | |
| --- | --- |
| Course Dates | 25% OFF if you register & pay before or on this date |
| TBA | 17 April 2020 |
| TBA | |
| TBA | |
Click here for additional discounts.
| | |
| --- | --- |
| Course Dates | 25% OFF if you register & pay before or on this date |
| TBA | |
| TBA | |
| TBA | |
Click here for additional discounts.
Courses are conducted from 9:00 to 15:00.
The CiviCRM course can be conducted in other cities if there is sufficient interest as well as on-site for an organisation or company. We provide a consultancy service for CiviCRM.
General Remarks
The course can be conducted on-site for a group.

The course can also be conducted over 2 Saturdays.
Generous Discounts
We have generous discounts for early bird payments and where two or more participants registers from the same organisation or company.
Course Registration
Registration for the course is open.
Download the Registration Form
Click Here to Register Online